Barbary Sheep Draw Hunts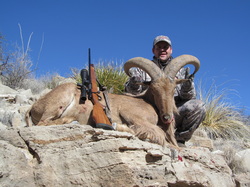 Unit 32, 25 inch Ram
Our Barbary Sheep hunts are conducted throughout Southeastern NM in Units 29, 30, 32 & 37 and as well a the Mc Gregor range hunt in 28. Known also as poor mans sheep hunt don't be fooled as they are just as tough to hunt as any other sheep out there. Be prepared for steep rocky climbs, long shots, and tons of glassing. But don't get discouraged as these animals make great trophies and are addicting to hunt. Most of these hunts will be conducted from hotels in nearby towns and we might move to different location as the hunt progresses in order to find sheep. These hunts are conducted from February 1-29
. For public land the average size is going to be 20-25 inches but there is always a chance at that 26+ incher! Put in the draw using us as your Outfitter to give you 50% drawing odds. We have the best guides for these hunts and we have had great success. We specialize in these hunts, go with us and you will have the best guides on mountain!
​
Nonresident License: $380.00 + $65.00 general license
Resident License: $111.00
Deadline to apply is March 22, contact us to help with application process, 25.00 consulting fee applies per application.
Contact us to book your hunt!
---
Package 1 - Fully Outfitted 4-Day2x1 Any Weapon $2,535.001x1 Any Weapon $3,010.00

Lodging, food and transportation provided. Lodging will either be hotel or trailer, 3 meals a day provided with snacks and drinks.
Make it a 7 day Trophy Hunt for an additional 2,200.00. We focus on 26+ inch rams.
Guide and field care provided, pack outs are a team effort.
Airport pickup add $125.00
Non hunter add $150.00 a day

Package 2 - Just Guided 4-Day2x1 Any Weapon $1,535.001x1 Any Weapon $2,010.00

You provide lodging, food and transportation or fuel cost to use guides truck. Expect to provide food and lodging for your guide as-well or add an extra 100.00 a day to have guide supply his own.
Make it a 7 day Trophy Hunt for an additional 1,500.00. We focus on 26+ inch rams.
Guide and field care provided, pack outs are team effort
Airport pick up add $150.00

Package 3 - 2-Day Semi-Guided4x1 $560.88
2/3x1 $760.001x1 $1,005.00

!Only available to hunters applying with us in outfitter pool! You get put in Outfitter Draw to higher your chance at drawing a tag and to meet requirements you will get 2 days guiding.

You provide lodging, food and transportation or fuel cost to use guides truck. Expect to provide food and lodging for your guide as-well or add an extra 100.00 a day to have guide supply his own.
Guide and field care provided, pack outs are team effort

Airport pick up add $150.00
*All prices are 100% inclusive per person, including all taxes and fees no hidden costs what you see is what you pay only items not included are your license, meat processing, and trophy care.
**50% is usually required to book hunt unless otherwise noted.
***Prices subject to change depending on economy