Public Draw Elk Hunts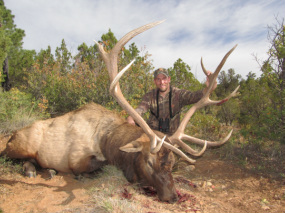 Rifle 34 Bull
​Our main elk camp is located GMU's 34, and we run a smaller camps out of Units 36, 37, 13, 28 and 17. We have had great success the past years with 100% opportunity and 75-80% kill. The elk herd here is great and you will have a great time and see a lot of elk. Our camps are fully outfitted located at Camp of Tall Pines with great facilities and comforts you would find at home or choose the just guided package to provide your own lodging, food and transportation and just pay for superior guiding. We offer 3 different kind of packages to meet any budget and are all inclusive meaning no need to add tax or other costs what you see is what you pay.
Archery hunts are exciting with the peak of the rut in full swing and it almost seems that elk are everywhere filling the beautiful mountains with high pitch bugles. There is also a youth/mobility impaired hunt following the archery hunts and they make for a great exciting hunt and we usually have great success with these hunts. As for muzzle loader and rifle, it is mostly a spot and stalk type of hunting but there is always that chance of calling in a hot bull looking for that cow. Note these are walking hunts and you can expect to walk 1-5 miles a day, so I advise to start conditioning a couple months before your hunt.
Nonresident License: $555.00 for standard hunts, $ 780.00 for HD/Quality hunts + $65.00 general license
Resident License: $91.00 for either sex or bull

Public Land Draw Dates:
Archery Hunt Dates: Sept. 1-14 and Sept 15-24.
Youth Hunt Dates: Oct. 5-9(34)
Muzzle loader Hunt Dates: Oct. 5-9 (Unit 36), Oct. 12-16,(34)
Rifle Hunts Dates: Oct. 12-16 , Oct. 20-24, Oct 12-16 (36) Oct. 26-30 (Unit 36)
Deadline to apply is March 22, contact us to help with application process, 25.00 consulting fee applies per application.
Contact us to book now!
---
Package 1 - Fully Outfitted 5-Day2x1 Any Weapon $3,800.001x1 Any Weapon $5,000.00

Lodging, food, and transportation provided. Lodging either wall tent, trailer or cabin, 3 meals a day provided with snacks and drinks.
Make it a 10-day Trophy Hunt for an additional 4,500.00. Our main focus on this hunt will be to harvest a 320+ bull.
Guide and field care provided, Pack outs are team effort or $400.00 for complete pack out if you do not help.
Airport pick add $150.00
Non hunter add $150.00 a day
Harvest a bear for $500.00 or turkey for $250.00 trophy fee.

Package 2 - Just Guided 5-Day2x1 Any Weapon $2,150.001x1 Any Weapon $2,800.00

Lodging and food not provided. Expect to provide food and lodging for guide or you will be charged 150.00 a day extra.
For Unit 34 hunters need to stay at Camp of Tall Pines, 575-687-4101 www.camptallpines.com
Make it a 10-day Trophy Hunt for an additional 2,500.00. Our main focus on this hunt will be to harvest a 320+ bull.
Guide and field care provided, Pack outs are team effort or $400.00 for complete packout..
Airport pick up add $150.00
Pack outs do not include other animals you may harvest

Package 3 - 2-Day Semi-Guided1x1 Any Weapon $1,200.00
2x1 Any Weapon $875.00Only available to hunters applying with us in outfitter pool and limited to 24 applicants a year in draw with me!

You get put in Outfitter Draw to higher your chance at drawing a tag and to meet requirements you will get 2 days guiding. Note may be 1 day and a half depending on guide scheduling.
Lodging and food not provided. Expect to provide food and lodging for guide or you will be charged 150.00 a day extra.
For Unit 34 hunter ask to stay at Camp of Tall Pines, 575-687-4101 www.camptallpines.com
Guide and field care provided, pack outs are team effort.
Pack outs do not include other animals you may harvest
Cow Elk Hunts for Residents only in Draw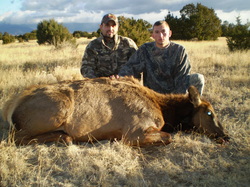 Cow elk hunts are a lot of fun and great for filling up your freezer, we offer 2 different packages for this hunt. Drawing a tag is reserved only for residents however, if you didn't draw a tag or are a non-resident we have guaranteed cow hunts please go to home page and click on guaranteed hunts for sale for those packages with a landvoucher. These are great hunts for kids and the wife. We always have fun with these cow hunts. We do these hunts in Units 34 and 36.

Cow Rifle Hunt Dates: Nov. 25-29, Dec 2-6 and Dec. 9-13


Non-Resident License: $354.00 + $65.00 general license
Resident License: $61.00
---
Package 1 - Fully Outfitted 3-Day2x1 Any Weapon $1,725.00 1x1 Any Weapon $2,350.00

Lodging, food and transportation provided
Guide and field care provided, pack outs are joint effort.
Airport pickup add $150.00
Non hunter add $150.00 a day

Package 2 - Just Guided 3-Day2x1 Any Weapon $1,300.001x1 Any Weapon $1,525.00

Lodging and food not provided. Expect to provide food and lodging for guide or you will be charged 150.00 a day extra.
For Unit 34 hunters must stay at Camp of Tall Pines, 575-687-4101 www.camptallpines.com
Guide and field care provided, pack outs are team effort.
Airport pick up add $150.00
*All prices are 100% inclusive per person, including all taxes and fees no hidden costs what you see is what you pay only items not included are your license, meat processing, and trophy care.
**50% is usually required to book hunt unless otherwise noted.
***Prices subject to change depending on economy