Bighorn Sheep Draw Hunts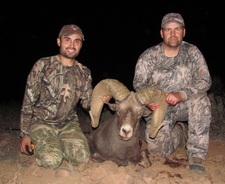 Truly a hunt of a lifetime, New Mexico offers both Rocky Mountain and Desert Bighorn sheep. We specialize in Desert sheep here in Southern NM. There is now an outfitter pool which can increase your odds of drawing so contact us early to get your application in. We have top notch guides in all the areas we guide for and we will ensure you go home with a trophy of a lifetime and a great hunting experience, We book 7 day hunts, and be prepared for lots of glassing and walking over some tough terrain.
---
Package 1 - Fully Outfitted 7-Day1x2 Any Weapon $7,250.00

Lodging, food, and transportation provided. Lodging either wall tent, trailer or hotel, 3 meals a day provided with snacks and drinks.

2 Guides and field care provided, Pack outs are team effort or $250.00 for complete packout.

Airport pick up included
Non hunter add $150.00 a day
Special price for a life size mount

Package 2 - Just Guided 7-Day1x1 Any Weapon $3,885.00

You provide lodging, food and transportation or fuel cost to use guides truck. Expect to provide food and lodging for your guide as-well or add an extra 100.00 a day to have guide supply his own.
Add another guide for $250.00 a day
Guide and field care provided, pack outs are team effort or $250.00 for complete packout.

Airport pick up add $150.00
Ibex on the Floridas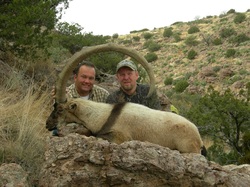 Now that there is an outfitter pool for these animals, you will want to contact us prior to applying to enter the outfitter pool for higher chances in drawing. These are great hunts and they are really fun. Chasing these animals on rocky rough terrain is a blast and the chance at taking a big billy is worth it all. We have experienced guides who know these mountains well and will work very hard in finding that trophy billy. These hunts are conducted on some of the roughest terrain in all of New Mexico so be prepared physically and mentally for this hunt.
---
Package 1 - Fully Outfitted 6-Day1x2 Any Weapon $5,570.00

Lodging, food, and transportation provided. Lodging either wall tent, trailer or hotel, 3 meals a day provided with snacks and drinks.

2 Guides and field care provided, Pack outs are team effort or $250.00 for complete packout.

Airport pick up included
Non hunter add $150.00 a day
Special price for a life size mount

Package 2 - Just Guided 6-Day1x1 Any Weapon $3,010.00

You provide lodging, food and transportation or fuel cost to use guides truck. Expect to provide food and lodging for your guide as-well or add an extra 100.00 a day to have guide supply his own.
Add another guide for $250.00 a day
Guide and field care provided, pack outs are team effort or $250.00 for complete packout.

Airport pick up add $150.00
*All prices are 100% inclusive per person, including all taxes and fees no hidden costs what you see is what you pay only items not included are your license, meat processing, and trophy care.
**50% is usually required to book hunt unless otherwise noted.
***Prices subject to change depending on economy