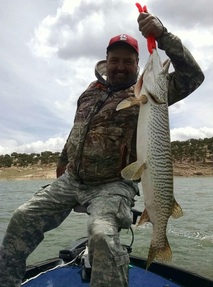 Let Guide Charlie Schlosser help you land that trophy Tiger Muskie! He has fished this lake for many years and knows it better than anyone I know. He will work hard to insure you have a safe and fun time while hopefully landing you that trophy Muskie. If you have never fished for Muskie's you have no idea what your missing. They are super fun to catch, fighting you every step of the way. We will use a combination of lures and fresh bait, which will be provided . We offer full day and 1/2 day excursions for up to 2 people, with a 18.5ft bass boat. You are welcome to bring your own gear, however it is not needed as it will be provided. Tiger Muskie excursions will be done May 1 - August 31.

All full day excursion will include a sack lunch and all excursions will include drinks for the time fishing.
Most days we will take off at 8 am and end at 12 pm/Half Day or 5-6 pm/Full Day. Please be there 15 min before for a brief safety and rule orientation.
You will need to purchase a Fishing license with 2nd Rod, Habitat Management and Access Stamp and a day pass for the lake if parking there.
We can meet at Grants, NM or at Bluewater Lake on Prewitt Side.
You are able to keep one 40 inch plus Muskie, however we recommend if you want to preserve your trophy to do a replica as they are a better choice and will last longer than a skin mount. We are a full time taxidermy studio and can take care of this process for you.
Recommend you bring sunscreen, hat, sunglasses and just in case a jacket (rain jacket would be a good idea).
Other than that be prepared for lots of sun and fun!


---
Prices are per person. Will offer a discount if booking more than 2 days.

Full Day Excursion
1x1 $300.00
2x1 $200.00


Half Day Excursion
1x1 $250.00
2x1 $175.00


*Tax and Gratuities not included in above pricing.