Check us out on facebook to see more recent project pics and to keep tabs on your project!
Affordable Taxidermy Studio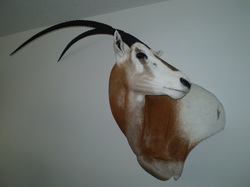 We are also partnered with a professional taxidermy studio and along with providing you with a great hunt we can also go further by providing you with quality mounts at affordable prices. Affordable Taxidermy Studio only takes in a certain amount of work each year to ensure quick turnarounds at the highest quality. Affordable Taxidermy specializes in much more than just shoulder mounts, they can create your lifesize display, prep capes for shipping if you prefer to use your taxidermist, create habitat scenes and will crate and ship your trophy home. They serve Las Cruces and surrounding areas in NM. If you choose to use this recommend taxidermist they will offer discounted prices for clients that book hunts with NMAO.
taxidermy_prices.xls
Click here for prices.
---
To send animals to be mounted you will want to pre freeze the cape, and for large horns you may want to split them. Once your cape is frozen solid pack it into lots of newspaper if you can find a soft cooler bag for hide it works even better. You will want to ship it 2 or 3 day shipping. Make sure to include your information as well as license information. As for horns you will want to put garden hose on all tips and firmly bubble wrap them before boxing and shipping them. If you have any question feel free to contact me.
Contact Info:
Justin Medina (Wildlife Artist)
130 Blacktail Deer AVe
Las Cruces, NM 88007
575-496-8951