Lion Hunting w/Dogs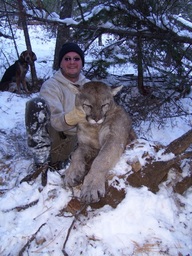 If lion hunting is what your looking for, then we have the best set of dogs and houndsman to go with them. I work with 2 really good houndsman that will be your guide for these hunts. Since snow has been hard to come by the past few years we have trained the dogs to run entirely on dry ground allowing us to do these hunts at any time. Although snow will increase odds a bit, it is not necessary for a successful lion hunt. During these hunts especially dry ground riding mules may be used so keep in mind long days on horseback may be a possibility (we will not ride you if you do not feel comfortable riding). We will be booking 10 of these hunts starting Dec 15- March 15. They will be 5 day hunts, you will need to provide lodging and food on these hunts however if you want a Fully Outfitted hunt please contact us for pricing and arrangement. You will need to take a small cougar quiz and purchase your license ($365.00) at least 2 days before your hunt.

Hunt cost is $3,500.00





Now Booking fall 2017!
---
Bear Hunting w/Dogs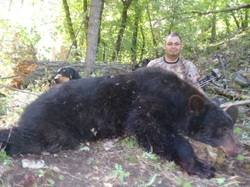 Our Bear hunts are really fun and also done with dogs. Season opens up August 16-31. then closes for archery hunts to reopen Sept 23-Nov 15. However we try and schedule all our bear hunts during August as units tend to close out fairly quick. We have a lot of bears in Lincoln National Forest, and have had nearly 100% success in treeing bears. The hunts are 5-days and do not include food or lodging however if you want a Fully Outfitted hunt please contact us for pricing and arrangement. These are fun hunts with great success and we tend to get alot of color phase bears as well.
You will need to purchase a license ($335.00) at least 2 days prior to hunt.

Cost for 1x1 is 2,570.00 or we can do a 2x1 for $2,175.00.

Now Booking for Fall 2017 and 2018
---